Summer is just around the corner, and it's time to start thinking about refreshing cold coffee beverages that will keep your consumers coming back for more. There's nothing like a pleasant and delicious cold coffee beverage in the summer heat. From classic cold brews to innovative nitro cold brews, there are plenty of options to quench your patron's thirst this summer.
Cold Brews for Summer Blues
Cold Brew Coffee has gained popularity in recent years among people. It is brewed by steeping coarsely ground coffee in cold water for an extended period of time, typically 12-24 hours. Consequently, a smooth, low-acid coffee concentrate is produced, which can be diluted with water or milk to make a delightful and tasty cold coffee beverage.
To make a cold brew traditionally, start with coarsely ground high-quality coffee. Pour cold water over the coffee grounds in a big container or pitcher. The basic rule is to use a 1:4 coffee-to-water ratio, however, this can be adjusted to your preference. Cover the jar and place it in the refrigerator for 12-24 hours to steep. After steeping, strain the coffee through a coffee filter to remove the ground. We at Kaapi Machines offer The Toddy® Cold Brew System, an original cold brew pioneer, is a nonelectrical coffee maker that produces a smooth, rich liquid concentrate used to make unparalleled cold brew.
Nitro Cold Brew
Nitro Cold Brew Coffee is a cold brew beverage injected with nitrogen gas. As a result, the texture is creamy and velvety, with a somewhat sweeter flavour. Nitro cold brew is an excellent choice for cafes seeking fashionable and Instagram-worthy cold beverages for summer.
To make it, start with cold brew coffee that has been steeped for 12-24 hours to make nitro cold brew. Transfer the cold brew coffee to a keg and use a specialised apparatus to infuse it with nitrogen gas. Nitro cold brew is normally served on tap, but it is also available in canned or bottled form for on-the-go consumption. You can also serve the nitro cold brew with sweet cream for a better experience.
Kaapi Machines offer Nitro Brood, for an elevated nitro brew experience. Brood's professionally crafted cold brew and nitro infusion technology enable you to pioneer your trends and set a new industry standard within your organisation. The Nitro Brood machine is the streamlined, nitro infuser you've been looking for. It has ground-breaking technology for which you don't have to install any separate nitrogen cylinder, instead it takes nitrogen from the air. Brood commercial nitro cold brew machines chill drinks down to a crisp 2 °C, infusing every cup with atmospheric nitrogen to bring you the creamiest, sweetest nitro coffee you've ever had before. So, whether it's to ease the cold brew process of steeping ground coffee in cold water for 12-24 hours or to create show-stopping drinks, check out the cutting-edge Nitro Brood here.
Decaf Cold Brew
Decaf cold brew is a wonderful choice for customers who enjoy the taste of coffee but want to eliminate the caffeine. The same technique as the ordinary cold brew is used to make decaf cold brew, but with decaffeinated coffee beans.
Salted Caramel Cream Cold Brew
Salted caramel cream cold brew is a delicious and indulgent cold coffee beverage that is ideal for a sweet treat. The smooth and refreshing taste of cold brew coffee is combined with the rich and creamy flavors of salted caramel in this beverage, making it a perfect choice for your customers.
Boba Bubble Cold Brew
Boba Bubble Cold Brew is a unique take on traditional cold brew coffee. This recipe calls for the addition of tapioca pearls, sometimes known as boba, to the coffee. Every taste of coffee with boba has a distinct and delightful feel. The boba pearls absorb the coffee flavour, making it the ideal companion to the smooth and creamy cold brew blend.
Iced Caramel Latte
Iced Caramel Latte is a classic and decadent coffee recipe that coffee enthusiasts have enjoyed for years. Cold-brewed coffee, foamy milk, and caramel syrup are combined in a glass for this dish. The caramel syrup gives the coffee a sweet and creamy texture, while the milk adds a frothy layer that balances the strong caffeine blast of the cold-brewed coffee.
If you are looking to add cold brew to your menu, the long brewing hours can be concerning. Well, we have got you covered.
Kaapi Machines offers Fredda, a unique kind of cold brew machine. It is an innovative and efficient method of cold brewing that has been developed using patented vacuum brewing technology. Fredda extracts delicious ready-to-drink cold brew coffee or tea in just 3-5 minutes.
Exciting Summer Beverages to Try at These Bangalore Cafes
We discovered some excellent cafes offering innovative and refreshing drinks to beat the heat this summer while wandering the streets of Bangalore.
Blue Tokai, for example, has a new blended frappe named Trioccino. It's a delectable blend of coffee brewed three ways: specialty instant, cold brew from their own Dhak Blend, and a distinctive shot of espresso.
Blue Tokai has now added a salted honey iced latte to its menu, which is the perfect combination of salty and sweet flavours. They also offer cold brew cans in a variety of flavours, including passion fruit cold brew, classic bold cold brew, classic light cold brew, single origin Ratnagiri estate cold brew, tender coconut cold brew, and coffee cherry cold brew.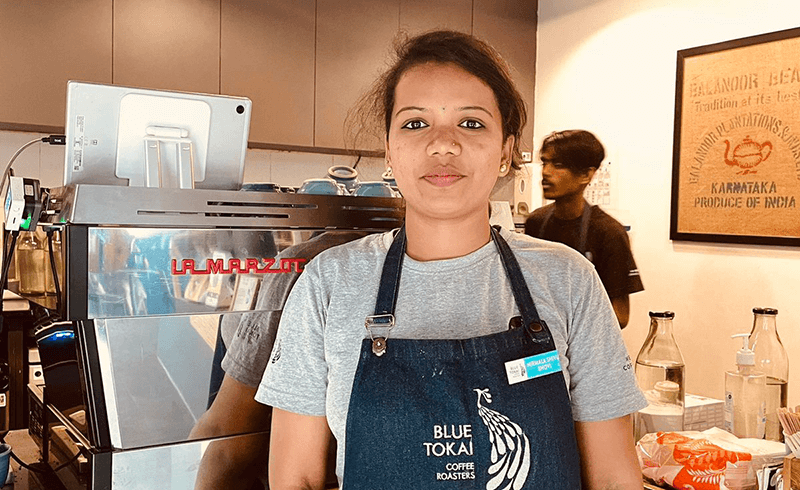 "We provide an unrivalled beverage experience with a diverse range of options to suit all tastes. The Trioccino, a perfect blend of ice cream and espresso prepared from our specially crafted dark blend, is one of our unique drinks, with a smooth and creamy texture that tantalises the taste senses. We also offer a salted honey ice latte, a wonderful combination of salty and sweet that is sure to excite your senses, for those who like a more unusual flavour. Our customers can enjoy a range of refreshing summer brews during the hot summer months, all created with precision and competence to suit even the most discerning palate. And for those on the run who need a fast pick-me-up, we offer convenient cold brew cans that can be enjoyed anywhere, anytime."
-Nirmala, Barista at Blue Tokai, Koramangala 
Café Azzure has added a delicious orange mimosa to its summer menu. Furthermore, they are introducing new litchi and cranberry flavoured cold coffee, which is produced with a single espresso shot infused with either litchi or cranberry. These new items are sure to tantalise your senses of taste and provide an on-the-go escape from the intense heat.

"We take pleasure in announcing that at our café, we offer a range of cold beverages to sway away your summer blues. Our menu includes a variety of drinks, such as our basic cold coffee and our distinctive litchi and cranberry flavoured coffees. The natural flavours of litchi and cranberry are infused into a single shot of espresso, resulting in a wonderful and aromatic experience for our dedicated consumers.

Our commitment to offering quality to our consumers has resulted in high praise for our flavoured coffees. To ensure that each cup is nothing short of excellent, we take considerable effort in selecting the finest ingredients and brewing procedures. Our flavoured coffees are sure to gratify, whether you're looking for a revitalising pick-me-up or simply want to indulge in a sumptuous treat."
-Chandrabhushan Chaudhary, Chef at Café Azzure, MG Road
This summer, provide your patrons with a delightful selection of cold coffee beverages. There are lots of options to accommodate any taste preference, ranging from traditional cold brews to revolutionary nitro cold brews and salted caramel cream cold brews. The brewing process for cold brew has grown more efficient and accessible because of technology like the Toddy® Cold Brew System and Fredda. Café owners and baristas may keep their customers cool and come back for more by including these intriguing and unique summer beverages on their menus.
We will keep you updated with what's new and trendy in the coffee town, keep watching the space.